Master of Public Administration, MPA
Public Administration
Master's Program, MPA
Course Delivery
On Campus, Online, Hybrid
Total Credits
36 - 39 Credits
About the Master of Public Administration Program
The Master of Public Administration (MPA) program at UCCS prepares students to take leadership roles in the public and nonprofit sectors. The UCCS MPA program is the only program in the Pikes Peak Region accredited by the Network of Schools of Public Policy, Affairs, and Administration (NASPAA).
The MPA program offers courses in-person, online, or a combination of both. Within the program, there are around 200 active students. Class sizes are capped at 20, except for capstone courses, where you may have up to 36 students.
Students in the MPA program should expect to complete the degree in no less than one and a half and no more than six years; the average is about three years.
---
Focus of Study
In addition to a solid core curriculum focused on essential problem-solving and decision-making skills and diverse elective choices, students with less professional experience have opportunities to participate in internships with public and nonprofit agencies.
The MPA program equips students with the skills needed to:
Manage organizations
Formulate, implement, and analyze policies
Guide policy improvements
---
Program Requirements for Admission
Prerequisites
Applicants to the MPA program should have an undergraduate degree from an accredited college or university, with grades sufficiently high to indicate the ability to pursue graduate work, typically a cumulative undergraduate grade point average of 3.0 or better. MPA applicants may have an undergraduate degree in any field.
---
Required Application Materials
To apply to the MPA program, please use the Online Graduate School Application.
Additional required materials include:
A written statement that includes 500-word responses to the following three prompts:

What are your career aspirations, and how can your academic experience contribute to your career goals?
What is relevant in your professional or academic background that contributes to your anticipated success in your graduate experience?
Provide an example of how your characteristics helped you overcome a specific challenge.

$60 non-refundable application fee
Official transcripts from all institutions of higher education attended
Current resume
The MPA program does not require a GRE test score for admissions.
Please note that current UCCS undergraduate students applying for the program or current UCCS graduate students in other certificate or degree programs may have different requirements.
Additional resources for Admissions:
---
Specialization Track Options
The MPA program provides graduate-level instruction for individuals who wish to prepare themselves for administrative or policy careers in industries such as:
---
Program Coursework
MPA students are required to complete either the Capstone Seminar or Master's Thesis as their culminating experience.
Capstone Seminar students work with a client in a public or nonprofit agency to identify a problem and then, using the knowledge and skills they have gained in the program, carry out a project and write a paper to address the identified problem. Master's Thesis students conduct a comprehensive review of the theoretical and research literature in the subject area of their thesis and collect original data or analyze existing data in new ways.
The MPA program includes professional experience among the requirements for degree completion. Students who do not have at least one year of professional experience in public administration or nonprofit management, or the equivalent, are classified as pre-service Students and are required to participate in an internship as part of their academic path.
Please visit the UCCS Academic Catalog for the most up-to-date list of program courses, course descriptions, and detailed program requirements.
---
Internship Path Requirements
Pre-service Students must complete an internship. Students must have completed at least 9 hours of coursework to enroll in PAD 6910. Graded pass/fail but is added as 3 credit hours. Pre-service students must complete 39 credit hours for the MPA.
The internship is required for students lacking significant experience in the public or nonprofit fields. PAD 6910 is not available for in-service students. Eligibility is determined at the time of admission. In-service students who are interested in professional development opportunities can take an Independent Study (PAD 9500).
Requirements for Internship Path

Core Studies

18 Credit Hours

Electives

15 Credit Hours

Internship

3 Credit Hours

Capstone

3 Credit Hours

Total Credit Hours

39 Credit Hours
Requirements for Non-Internship Path

Core Studies

18 Credit Hours

Electives

15 Credit Hours

Capstone

3 Credit Hours

Total Credit Hours

36 Credit Hours
---
Accreditation
The UCCS MPA degree is accredited by the Network of Schools of Public Policy, Affairs, and Administration's (NASPAA) commission on Peer Review and Accreditation. Graduates of the MPA program are assumed to have the following competencies, as enumerated by NASPAA.
The ability to:
Lead and manage in public interest

Participate in, contribute to, the policy process

To analyze, synthesize, think critically, solve problems and make evidence informed decisions in a complex and dynamic environment

To articulate, apply, and advance a public service perspective

To communicate and interact productively and in culturally responsive ways with a diverse and changing workforce and society at large
---
MPA Program Career Outcomes
The following information documents the number of completed applications, the number of students admitted, and the number of students enrolled during the academic years listed.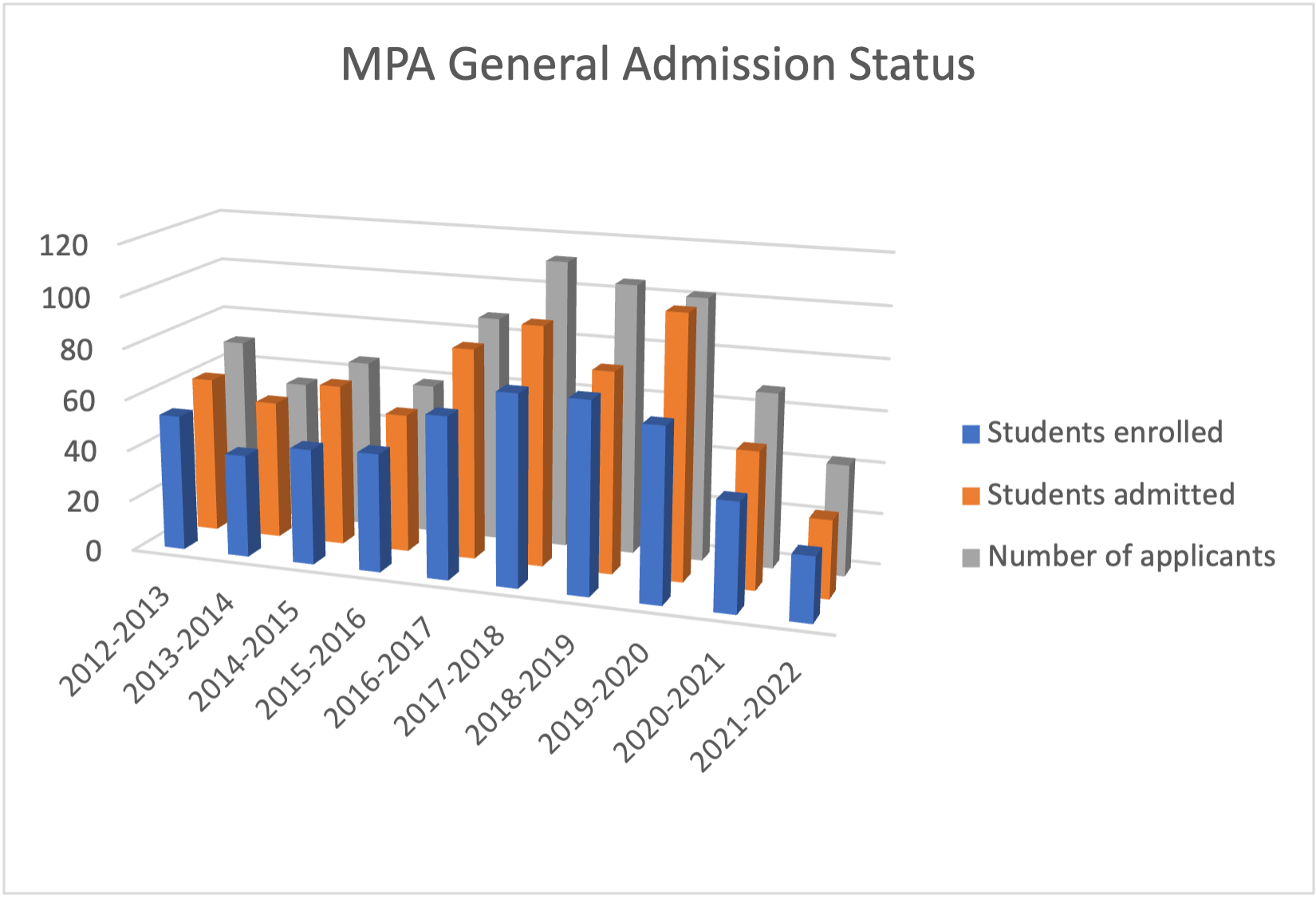 Applicants to Enrolled Students
|   | Applicants | Admitted Students | Enrolled Students |
| --- | --- | --- | --- |
| 2012-2013 | 70 | 61 | 53 |
| 2013-2014 | 43 | 41 | 33 |
| 2014-2015 | 66 | 63 | 45 |
| 2015-2016 | 59 | 54 | 46 |
| 2016-2017 | 88 | 82 | 63 |
| 2017-2018 | 112 | 93 | 74 |
| 2018-2019 | 105 | 78 | 74 |
| 2019-2020 | 102 | 102 | 67 |
| 2020-2021 | 68 | 53 | 42 |
| 2021-2022 | 43 | 30 | 25 |

Time to Graduate
The School of Public Affairs attracts students at various points in their professional development, including students actively seeking their first public service appointment to mid-career public servants seeking career advancements. Program flexibility allows the MPA program to meet the scheduling challenges of students.
UCCS has established that a graduate student is full-time if s/he takes at least five credit hours per semester (three credit hours in summer).
If a full-time student takes two courses, or six credit hours, per semester and does not attend summer sessions, a typical occurrence, it will take that student three years to complete the MPA program (internships notwithstanding). Those part-time students who complete only one course per semester, or those unable to attend every semester, will require longer to complete degree requirements.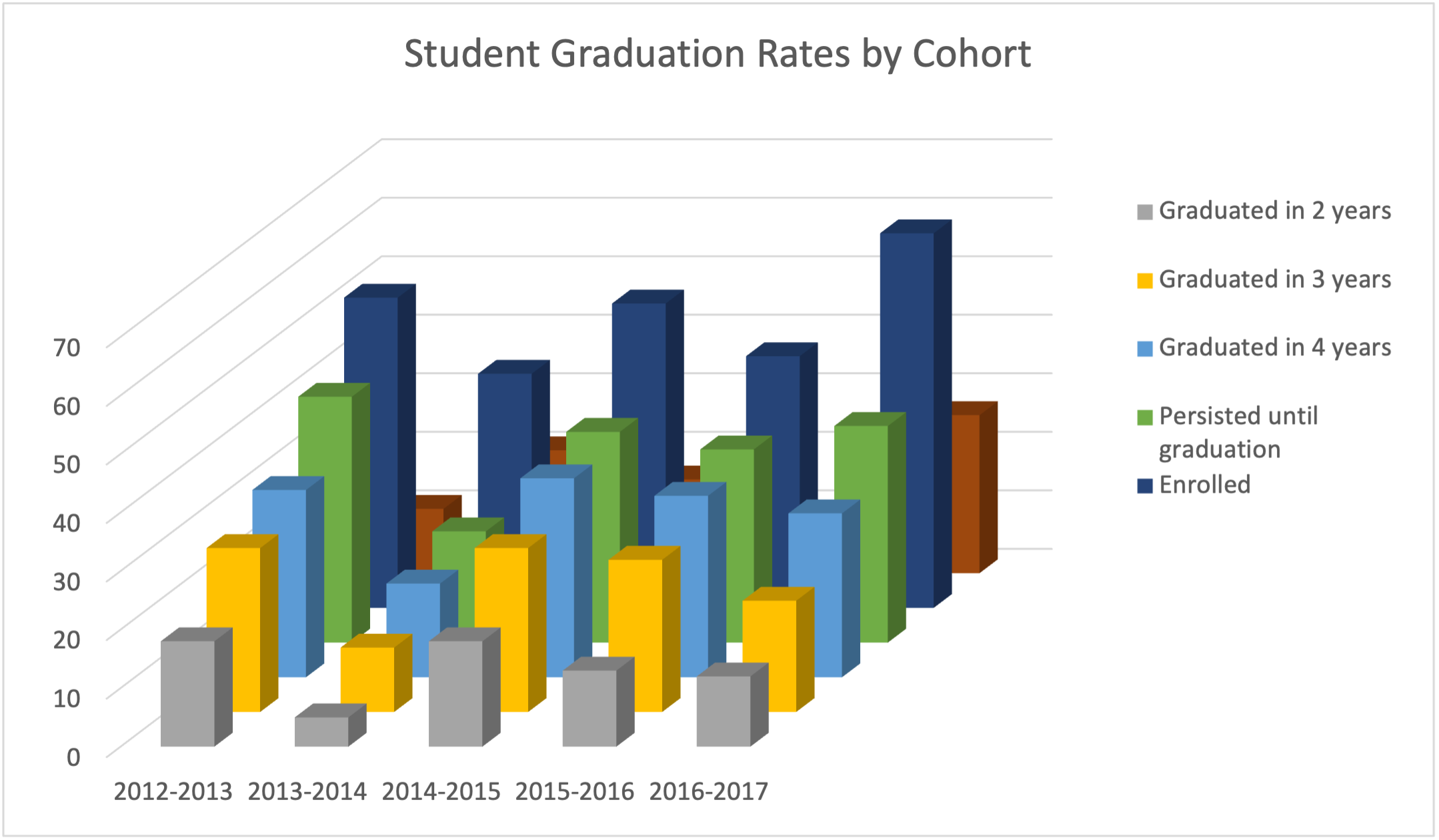 Where are Alumni Working?
 

2010-2011

2011-2012

2012-2013

2013-2014

2014-2015

2015-2016

2016-2017

2017- 2018

2018-2019

2019-2020

2020-2021

US Government

3

2

1

2

1

1

3

0

3

2

1

State, provincial or regional government

4

6

4

4

0

0

1

7

11

7

7

City, County, or other local government

6

3

6

3

4

3

4

8

2

9

11

Government (all levels) outside the US or international quasi-governmental

0

0

0

0

1

1

0

0

0

0

1

Nonprofit domestic-oriented

2

2

8

5

3

6

8

7

3

7

6

Nonprofit/NGOs internationally-oriented

0

1

0

2

2

1

0

1

0

0

0

Private Sector - Research/Consulting

2

1

2

2

1

3

2

1

0

1

2

Private Sector but not research/ consulting

2

1

3

2

1

4

2

3

1

3

4

Obtaining further education

2

0

0

1

1

1

3

1

0

0

2

Military Service

included in US Government category

3

3

1

2

1

3

2

1

3

Unemployed not seeking employment

1

5

0

0

3

0

0

0

0

1

1

Unemployed seeking employment

1

0

1

1

0

1

2

0

0

Status Unknown

5

4

1

7

3

2

7

3

3

0

3

Total Number of Graduates

27

25

29

31

22

25

31

35

27

31

41
Top