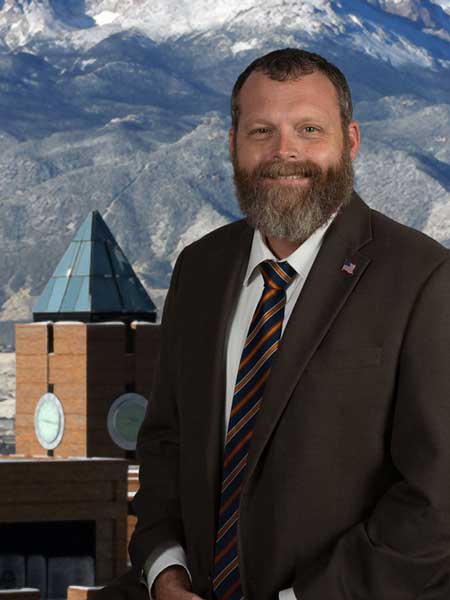 College of Public Service
ACAD 305
1420 Austin Bluffs Pkwy
Colorado Springs, CO 80918
Fall 2023 Office Hours: by appointment (in person or virtual). Email me to schedule a meeting.
Biographical Information
Dr. Jonathan Caudill is a Professor in the University of Colorado Colorado Springs' College of Public Service. He holds a BA in Criminal Justice and a Master of Criminal Justice from Sam Houston State University, and a Ph.D. in Criminology from the University of Texas at Dallas. Dr. Caudill's previous practitioner experiences in community and residential corrections, and his service in the United States Marine Corps, made serving as a Research Fellow at the Caruth Police Institute (Dallas Police Department) and establishing another public safety-focused institute in northern California a natural combination of his teaching philosophy and research agenda.
Dr. Caudill's scholarship focuses broadly on the application of formal social control. Specifically, his research has explored police-suspect interactions, patrol strategies, prosecutorial actions, institutional misconduct, and post-incarceration recidivism. Dr. Caudill has published over 25 peer-reviewed studies and is a co-author of Lost Causes: Blended Sentencing, Second Chances, and the Texas Youth Commission (University of Texas Press). His research has appeared in numerous peer-reviewed journals, including the American Journal of Criminal Justice, Crime and Delinquency, the International Journal of Offender Therapy and Comparative Criminology, the Journal of Criminal Justice, and Youth Violence and Juvenile Justice. Dr. Caudill's most recent project involves exploring the social consequences of contemporary sentencing reform through collaboration with California criminal justice agencies.
Dr. Caudill serves as Co-Editor for Youth Violence and Juvenile Justice and serves as an Editorial Board Member for the Journal of Criminal Justice as part of his service to the discipline. Additionally, he serves as an ad hoc reviewer for several other peer-reviewed academic journals where he reviews scientific research on a range of topics, including policing culture, policing strategies, gangs, public policy, therapeutic program evaluations, organizational behavior, institutional misconduct, and recidivism.
When not attending to his professional duties, Dr. Caudill enjoys exploring the wonders of Colorado with his family.
Areas of Interest
Formal social control
Recidivism
Correctional policy
Institutional misconduct
Legal processing
Gangs
Organizational change
Policing culture and strategies